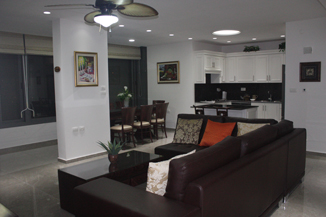 Property Availability
Location: Jerusalem, Israel
This is the perfect home away from home, for vacationers looking for a safe neighborhood, close to shopping, restaurants, and activities. We are located in upscale Kiryat Shmuel, adjacent to Rechavia, Talbieh and Katamon, in Jerusalem, Israel. This is a very central location. We are a 12 minute walk to the Great Synagogue, a 40 minute walk to the Western Wall, and a 20 minute walk to Machane Yehudah (The Shuk).
Conveniently located, this 1152 square foot (107 square meter) vacation rental property has all the comforts of home while you are enjoying the Holy City of Jerusalem and its climate. This special property can accommodate six guests, plus 2 children on the sofa and an infant in a pack n' play. The space is bright, airy and spacious. This newly renovated and decorated apartment has 3 bedrooms and 2 full baths with granite top vanities. The beautiful kitchen with its granite counter top and island with 2 stools, is equipped for all your cooking needs. The apartment is designed with an open concept. Beyond the huge, glass sliding windows in the living room and dining room area, is a lovely view of Jerusalem and the Knesset building. Our dining room can accommodate 8 guests and can be extended to accommodate several more guests. The large living room with 2 sofas, complements a large flat screen TV and entertainment area.
We have 3 bedrooms in this apartment. The master bedroom has an ensuite bathroom with a stall shower and bench. Each bedroom has two beds. The master bedroom and one guest room have "Mitot Yehudi" that can be pulled apart as needed. Our 2 sofas can be used to sleep children too. We are fully equipped with new towels, linen, dishes, CDs, DVDs, games, toys and books. The front door of the apartment building is kept locked for your security. There is a Shabbat elevator and a private parking spot as well.
We hope you will enjoy your stay in The Light of Jerusalem!
View and book on www.vrbo.com.
Vacation Rental Features
Amenities

Our apartment is on the second floor. There is an elevator in the building which is also a Shabbat elevator. The apartment has one designated parking spot in front of the building and a remote is used to open the parking lot. All windows are secured with "trissim" which also allow air flow. The apartment has central air conditioning and separate wall units in each bedroom. The floors are tiled with huge porcelain granite tiles.
There is under floor heating throughout the apartment.

All furniture, towels, bedding etc. are brand new.

Cable TV, Internet service, WIFI, local phone service, desk, computer hookup, fax machine, photocopy and scanner. Our apartment is perfect for the professional businessman who still wants to stay in touch.

Master suite with 2 beds (mitot Yehudi), 2 night tables, flat screen TV and DVD player, large closet, and ensuite bathroom with huge shower and bench. There is a small porch off the master bedroom.

One guest bedroom has a high riser, dresser, night table, wardrobe closet and a pack n' play for an infant. The second guest bedroom has 2 beds (mitot Yehudi), 2 night tables and a wardrobe closet.

Each bedroom is equipped with a telephone, clock, reading lamps and ceiling fans.

The guest bathroom has a tub/shower. The washer and dryer are housed in the guest bathroom.

The living room is beautifully decorated with 2 sofas and a coffee table. Our wall unit is equipped with a large flat screen TV and DVD player. We have a library of books, CDs, DVDs and games for your enjoyment. We have children's books and toys as well. The wall of large windows can be opened to allow the wonderful Jerusalem air in as well as providing a beautiful view.

Our dining room table can accommodate 8 guests. Please let us know if you need more space. We have a table extension plus extra folding chairs.

The apartment is close to many houses of worship, shopping, restaurants and historical attractions. The apartment and building is wheelchair accessible. Absolutely no smoking or pets.
Rate Details (In US Dollars)
Rental rates quoted in: US Dollars


Dates

Weekly

April - June
Apr 1 - Jun 30
1 night min stay
$1600 per week ($265 each additional night)
July - September
Jul 1 - Sep 30
1 night min stay
$1750 per week ($275 each additional night)
October-December
Oct 1 - Dec 31
1 night min stay
$1500 per week ($250 each additional night)
January - March
Jan 1 - Mar 30
1 night min stay
$1500 per week ($250 each additional night)
* Monthly $5000 - $6000.
Cleaning $125 - $150.
---
Additional information about rental rates
Holiday price - $350 per night.